Enric Meinhardt-Llopis
Yet another assortment of obligatory narcissism.
External links: github | google scholar | IPOL (dev, git) | CMLA | GPI
Research
Research interests: correction of turbulence, optical flow evaluation, smooth optical flow, image registration, stereo reconstruction from satellite images, image fusion, data structures for 3D images, differential geometry.
Code
Technology advances by continuous reinvention of the wheel.
My favourite programming languages are C, postscript and lua. I also like to write sh scripts. In the past I coded in assembler. Now, if the need arises, I can also use C++ or Python, but they are not very enjoyable.
Teaching
I hate blackboards! The ONLY way to do mathematics is by scribbling in the sand.
Fourier and Hilbert Analysis
Undergraduate course taught at the École Normale Supérieure de Cachan in 2014—2015 (in french).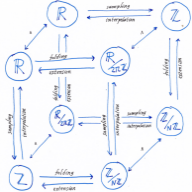 Mathematical prerequisites for imaging
Two short courses for master students, taught at the École Normale Supérieure de Cachan in 2014—2015 (in french).




Handouts:
Expository material
Some beautiful facts that make me happy:
The Fourier-Poisson cube is commutative
Taylor and Fourier series are the same thing
Taylor formula can be written in a cool way
Maxwell equations are analogous to Newton gravitation
The two paths to harmonic analysis
Flat Differential Geometry
Riemann-Finsler hierarchy
Spherical geometry
Three proofs of Snell's law
Continuous Snell law and Christoffel symbols
The big picture in biology.
Some expository presentations:
my rant on the python programming language
my rant on software licenses
my rant on reinventing the wheel
Contact
Enric Meinhardt-Llopis
CMLA—ENS Cachan
61, avenue du Président Wilson
94235 Cachan, FRANCE

enric.meinhardt@cmla.ens-cachan.fr
Office: +33(0) 147 40 5907
Mobile: +33(0) 652 457 437

Last updated: 20 Februrary 2016
---